Registration for Art Camp is on November 15th, just a few days from now. What can you do now to be ready to register for Art Camp?  The first step is to log on to your account on weavetexas.org and read all the great information about Art Camp.  If you are not a member of CHT, then make sure to join.  Registration is open only to current CHT members. You must be logged into to access the online registration.
There are only a couple of decisions for you to make when you register:
Daytime Class: Please read about the four class offerings and rank them 1 – 4.  When a class is full, it will no longer be shown as an option on the website.
Rooming: You may choose to share a room in a condo or have a room to yourself.  Please see that there is a price difference.  Be ready to enter your preferred roommate's name.  And, if you know your condo mates, please enter them as well.
Food: We are in for a treat this year.  The menu choices are amazing!  And for those with dietary requirements, our conference coordinator is a vegetarian and wants to make sure that all of our dietary requirements are honored.    Please be specific about your needs when registering.
Register online and pay by credit card. Or, if you want to register by mail please do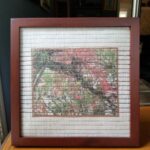 so by mailing your forms in at any time.  Keep in mind though, these will not be processed until November 15th.  The registration form is located on the website.  Simply print, complete, provide credit card payment info or enclose a check and
mail to Rosanne White at the address provided on the form.
We are looking forward to seeing all our Texas weaving friends at Art Camp 2018!